My name is Farzana Rasheed and, I love owning and running an IT company, moreover in a challenging environment as that of post war Liberia. I inherited the business from my late partner, Wesley Daames, who founded an IT Services company in 2004. Prior to plunging into the business world, I worked with the United Nations in Afghanistan, Pakistan, Iraq, Jordan and Liberia for 6 years. Hailing from Pakistan, I have an extensive international personal and working background.
I bring almost 10 years of having lived and worked in Liberia to the table. Although I can be neurotically bureaucratic at times, I have as CEO, steered my company towards a vision of excellence by focusing on standards, in-house training, internal procedures and client satisfaction. I believe a company should be a dynamic organisation that should have as its foundation a belief in its people. I look forward to continuing to fulfill New Africa Technology Company's objective of bringing world-class services and products to Liberia and eventually, the rest of Africa.
Contact details: +231-(0)886-531-458 or farzana.rasheed@newafritech.com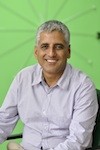 Haresh Karamchandani , Head of Operations
Hailing from a traditional Sindhi Business family background, Haresh was born and brought up in Lagos, Nigeria and furthered his education by graduating from the National College of Science and Technology, Mumbai, India.
He first came to Monrovia, Liberia in October 1982 and soon thereafter set up a thriving business importing goods from China, Europe and India. During the 1990 war he was forced to evacuate the country and set up a new business in Nigeria which lasted for the next decade. In the year 2000 he set up 2 industries on the outskirts of Mumbai, viz: Industrial Paint and Dyestuff.
Haresh returned back to Liberia in September 2009 and since then has been the Head of Operations of New Africa Technology Company. A widely travelled astute businessman, Haresh has business contacts worldwide and is a resourceful and enterprising personality.
Contact details: +231-(0)886-560-080 or  haresh.karamchandani@newafritech.com
Jonathan Barwon, Head of IT
Jonathan is an IT specialist with more than 10-year experience in IT work. Prior to work for NATC, Jonathan was a technician at Lonestar. He has experience in the following:
MCSE (Microsoft Certified System Engineering) Diploma
Certificate in computer software, OS (Windows), Productivity Software, Microsoft Office, etc.
Experience with Microsoft Server (2003/2008)
Fundamental Hardware Skills (Desktops, Computers, & Printers)
Networking (LAN, WAN, Wifi)
Installation of software, hardware
The rest of the team:
Patience Nyepah, Finance Officer
Alexander Baryou , Printer Maintenance and Repairs Specialist
Daniel Collins, Trainee
Cheayee Gee , Trainee